Scroll compressor water cooled chiller open type
Open type scroll water chiller unit is one kind of water-cooled chiller, it including the housing case so called open type water cooled chiller. The 20 HP water cooled chiller open type include the compressor, shell and tube condenser and shell and tube evaporator, Electric box. Not build the water pump and water tank, that made the chiller cost lower. So the water cooled chiller price is competitive.
As a professional water-cooled chiller supplier in China, OUMAL has exported many water cooled chiller machines to the Philippines, Australia, New Zealand, Malaysia, Singapore, Indonesia, Chile, Mexico, Costa Rica, Brazil, Argentina, Colombia, South Africa, Nigeria, Saudi Arabia, Dubai, Spain, Italy, etc.
If you are looking for a high-quality open type water cooled chiller or scroll compressor water chiller manufacturer, please contact OUMAL sales for the best price quotation.
Open type water cooled chiller Products Information
1. Product Name: scroll compressor water cooled chiller open type
2. Cooling capacity: 60kw
3. Output temp. :-5C/0C/7C
4. Power supply: 220V, 380-415V, 440V-460V, 50Hz or 60Hz;
5. Color: customized
6. Refrigerant: R22/R407C/R134a/R410a/R404a
7. Compressor: Hermetic scroll type
8. Evaporator: High efficiency copper tube shell and tube
9. Condenser: High efficiency copper tube shell and tube
10. Protection System: Compressor overheat protection, high/low pressure protection, phase missing/sequence protection, flow rate protection, anti-frozen protection.
15 Ton water cooled chiller Products Specification
Model Item
OMC-20W

Cooling Capacity

KW

60

Kcal/h

51600

Ton

17

Btu/h

204778

Input power

KW

15

Power supply

 

3 PH-380V 50Hz

Temperature Range

℃

5℃-35℃




Refrigerant

Type

 

R22(R407C/R410A/R134A)

Compressor

Control Mode

 

Expansion Valve

Type

 

Scroll type / Piston Type/ Screw Type

Power

KW

15

Evaporator

Type

 

Steeel Shell and tube

Chilled water flow

m³/h

10.3

Condenser

Type

 

316 Stainless steel Shell and tube

Cooling water flow

m³/h

12.9

Dimension

Length

mm

1350

Width

mm

800

Height

mm

1150

Weight

KG

720

Safety Protection: Compressor overheating protection, over-current protection, high and low pressure protection, over-temperature protection, flow protection,reversed and lacking phase protection, exhaust overheating protection.
20HP Water cooled chiller open type Application
Open type water cooled Chiller used in many different industries:
Food and Beverages – Microbreweries, confectionary, bakeries, distilleries, wineries, bottling, carbonation, vegetable, meat and fish processing, etc.
Pharma and chemical – Jacketed vessels cooling, condenser cooling, PUF mixers, Laboratories applications, x ray spectrometers, paint cooling, packing machine, anodizing, plating, liquid nitrogen plant, etc
Other industries- plastic industry, electronics industry, electroplating industry, machinery industry, construction industry, laser industry, ultrasonic/ultrasound industry, numerical control processing industry, ship manufacturing industry, steel and iron manufacturing industry, discharge industry, shoe making industry, leather dry cleaning industry etc.
Packing & Shipping
Oumal Chiller use plywood package for overseas orders, shipping by bulk cargo or containers. Standard machines have stock can delivery when the payment recieved. For customized chiller or not standard power supply the delivery would be 15-30 working days according to different requirements.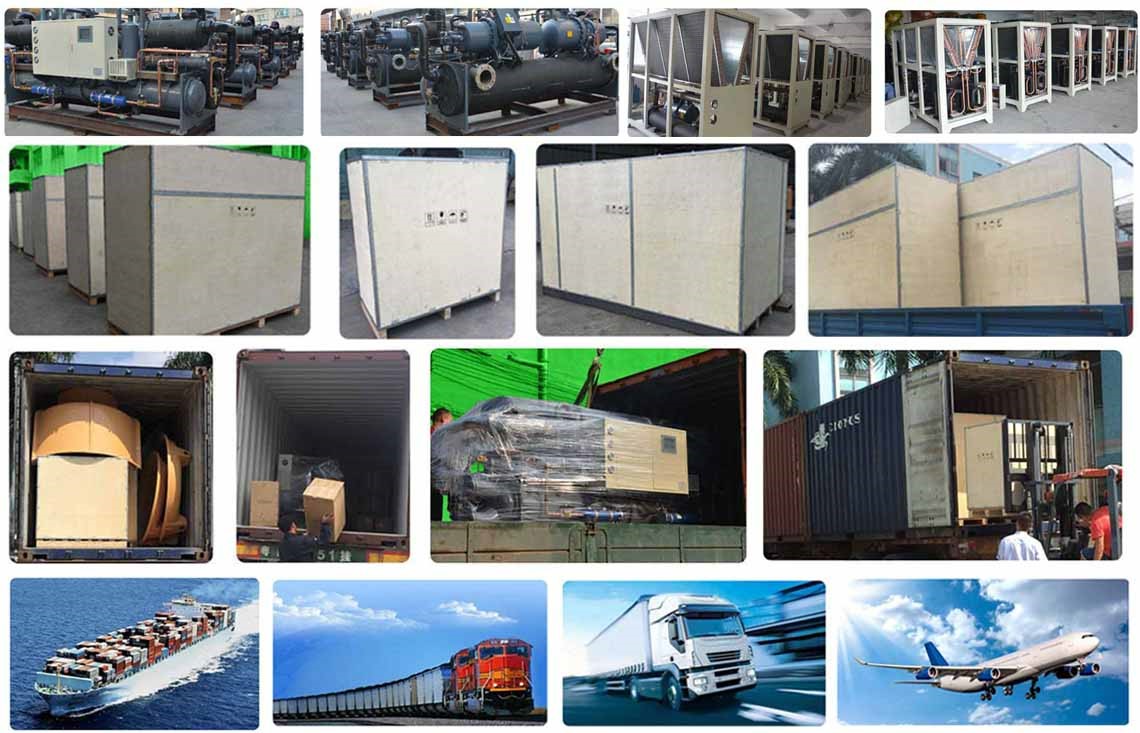 FAQ
Q1:Could you help us to recommend the model for our project?
A1: Yes, we have engineer to check the details and make the scheme for you. Based on the following:
1)Cooling capacity;
2)chilled water inlet and outlet temperature
3)chilled water flow
4) Refrigerant;
5) Ambient temperature;
6)Voltage;
7) Be used for what industry?
8)Any other special requirements?
Q2:How to ensure your product with good quality?
A2: All our products with CE certificate. And use the well-know brand accessories, such as copeland, danfoss,Hanbell, Bitzer compressor Emerson expansion Valve, Siemens controller.
also can be customized. All OUMAL Chillers are factory tested under load conditions to ensure good quality and easy installation for users
Q3:What's the warranty?
A3: 15 months warranty for free if confirmed by both side damage in the quality reason.
Q4:What's your payment term?
A4: We accept T/T, LC, Western Union, etc. Normally, 30% deposit for production, 70% balance before shipment.
Q5:Are you a manufacturer?
A5: Yes, we have more than 15 years in water chiller business. Also have patent on the water chiller appearance .
The control box design make the unit safety and stably.
Q6:How can i Place an order ?
A6: Click Below to fill the table or Call 0086 15112554736