-10℃ Low temperature stainless steel air cooled chiller
Oumal -10℃ Low temperature stainless steel air cooled chiller is used in food industry , it's easy to clean as the housing is use 304 Stainless steel. The low temperature stainless steel air cooled chiller is a custom chiller according to customer's needs. -10℃ Low temperature air cooled chiller is also a type of glycol cooling water system, or we call glycol air cooled chiller.
-10℃ Low temperature stainless steel air cooled chiller use Low temperature compressor Copeland Brand with R404A Refrigerant. 30% glycol and water mixture in the water tank to reach -10℃ outlet water without frozen. Evaporator use shell and tube type. If you are looking for a small low temperature chiller, please feel free to contact us to customized your glycol cooling water systems. With high quality and reasonal price for the low temperature chillers.
Features of Low temperature stainless steel chiller:
1.The compressor of the unit is selected from the original brand Copeland Low temperature ZB series.
2. Use refrigerant R404A to meet the requirements of refrigeration temperature and environmental protection;
3. Temperature selection range: Process chilled water between 35°C and -30°C can be provided (users can choose different unit specifications according to different production needs)
4. According to the needs of users, a variety of refrigerants (frozen water) can be selected: ethylene glycol aqueous solution, alcohol, ternary mixed solution, calcium chloride, seawater, electroplating, electrophoresis and other refrigerants, and the evaporator is pressed Anti-corrosion requirements design.
As a professional low temperature stainless steel glycol chiller supplier in China, Oumal has more high performance and convenience features into our stainless steel water chillers. Contact us to get a quick quote of your stainless steel glycol chiller now.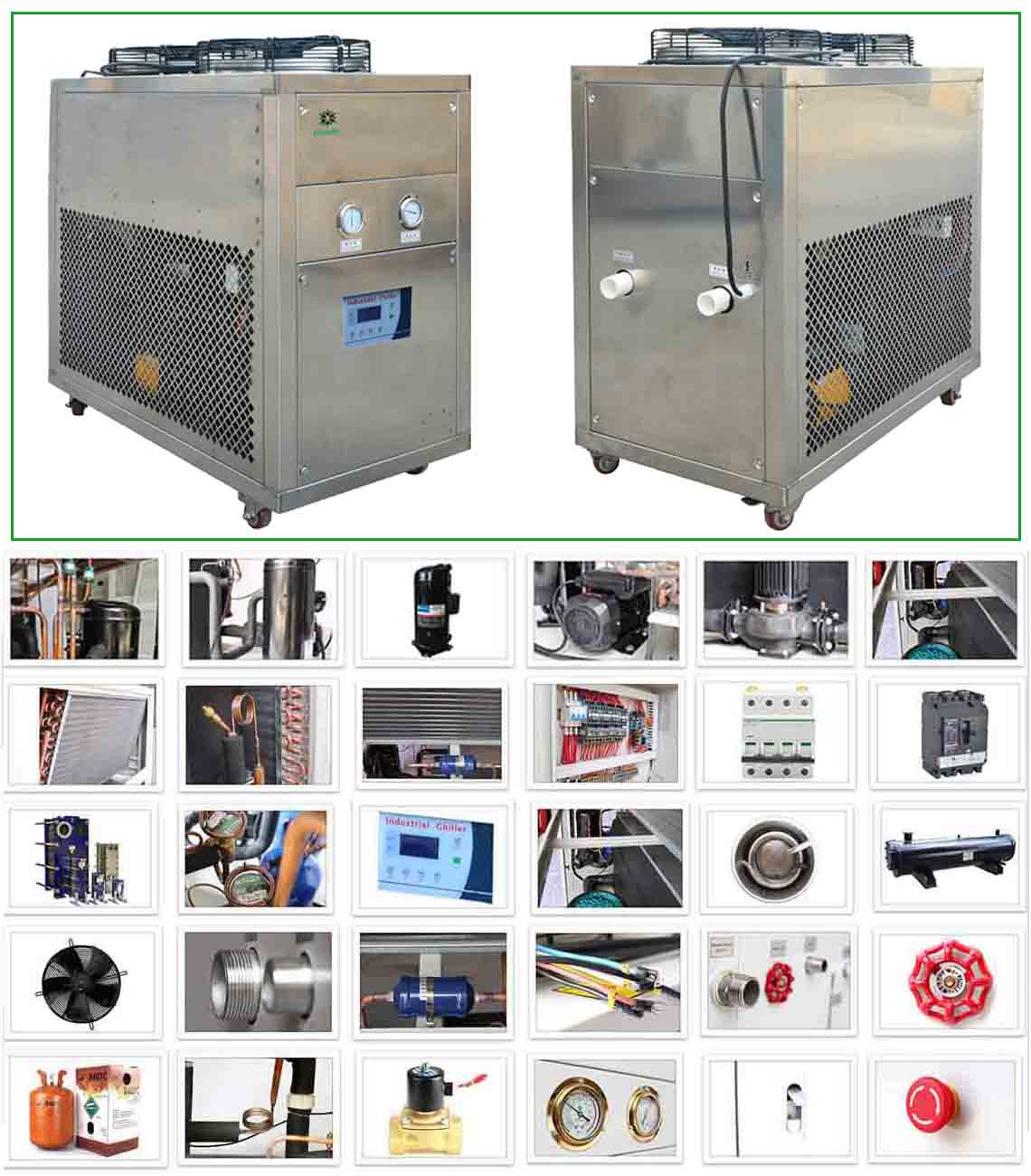 Application of stainless steel Air-cooled water Chiller
Stainless steel Air cooled chiller is widely used in rubber, plastics, petroleum, chemical, electronics, papermaking, textile, brewing, pharmaceuticals, food, machinery, beverages, vacuum coating, electroplating, laboratories, central air conditioning and many other fields. It is also widely used in centralized cooling. OUMAL stainless steel air cooled chiller doesn't require cooling tower, which is easy to install and move.
6HP low temperature Stainless steel air cooled chiller Specification
Model No

OMC-6AL

Outlet temperature

-10℃

Cooling capacity

kW

7.5

USRT

2.13

kcal/h

6450

Input power

kW

5.61

Power supply

3PH 380V 50Hz

Refrigerant

Type

R404A

Control Mode

Expansion Valve

Compressor

Type

Hermetic Scroll Type

Input Power

4.5kw

Fan

Type

Spiral axial flow fan

Condenser Type

High efficiency copper condensing coil with Aluminum

Evaporator

Type

Shell and tube + Stainless Water Tank

Chilled water flow

m³h

1.3

Pipe Diameter

inch

1"

Tank Volume

L

50

Pump

Power(kw)

0.75

Head (M)

20

Size

Length (mm)

1150

Width (mm)

560

Height (mm)

1200

Weight

kg

210

Safety Protection: Compressor overheating protection, over-current protection, high and low pressure protection, over-temperature protection, flow protection, reversed and lacking phase protection, exhaust overheating protection.
Package & Shipping
FAQ
Q1: Could you help us to recommend the model for our project?
A1: Yes, we have engineer to check the details and make the scheme for you. Based on the following:
1)Cooling capacity;
2)chilled water inlet and outlet temperature
3)chilled water flow
4) Refrigerant;
5) Ambient temperature;
6)Voltage;
7) Be used for what industry?
8)Any other special requirements
Q2: How to ensure your product with good quality?
A2: All our products with CE certificate. And use the well-know brand accessories, such as copeland, danfoss,Hanbell, Bitzer compressor Emerson expansion Valve, Siemens controller.
also can be customized. All OUMAL Chillers are factory tested under load conditions to ensure good quality and easy installation for users
Q3: What's the warranty?
A3: 15 months warranty for free if confirmed by both side damage in the quality reason.
Q4: What's your payment term?
A4: We accept T/T, LC, Western Union, etc. Normally, 30% deposit for production, 70% balance before shipment.
Q5: Are you a manufacturer?
A5: Yes, we have more than 15 years in water chiller business. Also have patent on the water chiller appearance .
The control box design make the unit safety and stably.
Q6: How can i Place an order ?
A6: Click Below to fill the table or Call 0086 15112554736.