Air Cooled Water Chiller for Food Processing
Oumal Chiller for food industry is a custom special water chiller use in food processing. It uses Stainless Steel Metal for housing, 304 Stainless Steel Plate Heat exchanger, and the materials touch water all use food grade stainless steel.
Food industry chillers, Food Process Chiller, special refrigeration units for the food industry, chillers indispensable for the food industry

Because food processing requires cooling,water chillers are also needed in the food industry to play a role. At this time, the chiller is called the food processing chiller, which can cool the food at a high speed, better meet the packaging requirements, and can also control the temperature of fermented food. The special refrigeration unit for the food industry is an indispensable chiller in the food industry. It is widely used in the food processing industry to quickly cool the product and keep the temperature constant.

In many food industries, after the food is processed at high temperature, in order to be able to pack quickly, the temperature of the food needs to be able to meet the packaging requirements. At this time, it is necessary to use a water chiller machine in the food industry to quickly and efficiently process the processed food. Cool to meet the requirements. In addition, in the process of food fermentation, different temperatures are also needed to stabilize the needs of fermentation. Therefore, in order to ensure the quality of product fermentation, we also need to use special refrigeration units for the food industry. In addition to the above two aspects, in food preservation A chiller is also needed in the process. Although this is somewhat similar to the previous two points, the effects they satisfy are different. In the specific operation process, we also need to treat them differently. In short, whether it is processing, fermentation, or preservation. Water chillers have indeed played a lot and a great role in the food industry.
Working principle of chillers in the food industry,
Food Processing Chiller, special refrigeration units for the food industry

The operation of the system is through three interrelated systems: refrigerant circulation system, water circulation system, and electrical automatic control system. The refrigerant (ie refrigerant) absorbs the heat of the object to be cooled in the evaporator and vaporizes into steam. The compressor continuously extracts the generated steam from the evaporator and compresses it. The compressed high-temperature and high-pressure steam is After being sent to the condenser, it releases heat to the cooling medium (such as water, air, etc.) to condense into a high-pressure liquid, which enters the evaporator after being depressurized by the throttling mechanism, vaporizes again, absorbs the heat of the object to be cooled, and circulates again and again.

Features of stainless steel refrigeration unit:
1.The compressor of the unit is selected from the original brand Copeland (Copeland), Denmark Danfos, Taiwan (Hanbell) and other medium and low temperature compressors;
2. Use refrigerants such as R404A, R410a, R22/R407C, R22, etc. to meet the requirements of refrigeration temperature and environmental protection;
3. Temperature selection range: Process chilled water between 35°C and -30°C can be provided (users can choose different unit specifications according to different production needs)
4. According to the needs of users, a variety of refrigerants (frozen water) can be selected: ethylene glycol aqueous solution, alcohol, ternary mixed solution, calcium chloride, seawater, electroplating, electrophoresis and other refrigerants, and the evaporator is pressed Anti-corrosion requirements design.
5. According to the design of 24-hour non-stop operation, it can meet the cold source of various continuous production processes;
6. The unit can also have its own water tank and circulating water pump according to the cooling capacity, no cooling tower and cooling water pump are required, and installation and maintenance are simple and convenient;
7. Equipped with various safety protection devices, stable performance, low noise, long service life, simple operation; LCD display man-machine interface (PLC selection) is adopted, the operation is simple and convenient, and the operation status is clear at a glance.
As a professional stainless steel chiller supplier in China, Oumal has more high performance and convenience features into our stainless steel water chillers. Contact us to get a quick quote of your stainless steel air cooled chiller now.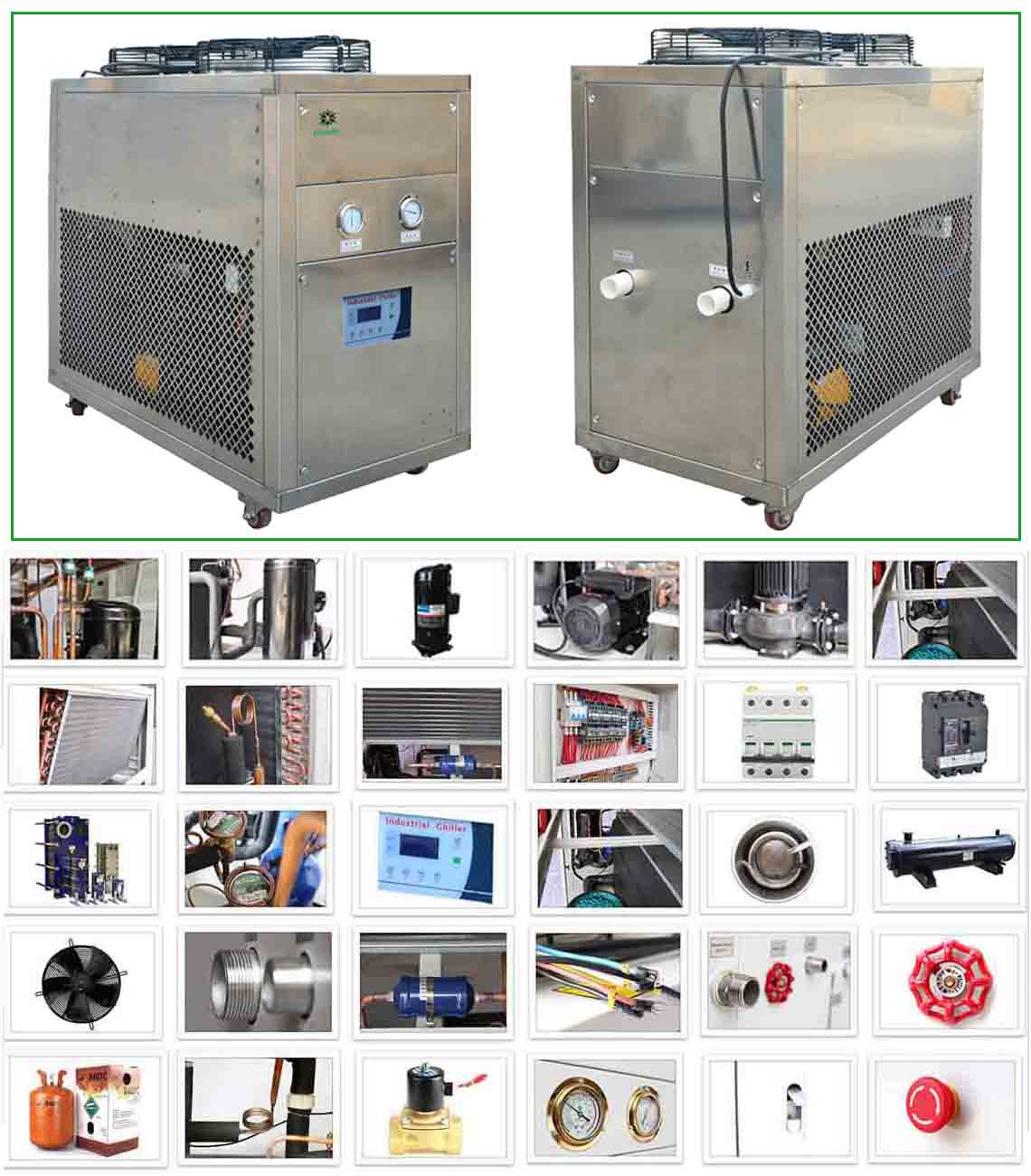 Food Process Chiller Application
Food Processing Chiller are mainly use before food Packing Process. Food fermentation. The air cooled water chiller also can use in other industries. Like Plastic Processing Chiller, Metal Finishing Chiller, Medical Chillers, Concrete Mixing Plant Chiller........
5HP Food Processing air cooled chiller Specification
Model Item

OMC-5A

Cooling Capacity

KW

13.5

Kcal/h

11610

Ton

3.8

Btu/h

46075

Input Power

KW

5

Power supply

3PH-380V 50Hz

Temperature Range

℃

5-35

Refrigerant

Type




R22(R407C/R410A/R134A)

Compressor

Control Mode




Capillary/expansion valve

Type




Piston Type / Scroll Type

Power

KW

4

Chilled water

Tank Volume

L

65

Tank Material




SUS304 Stainless Steel

Pipe Diameter

inch

1〃

Pump

Lift

m

20

Power

kw

0.75

Evaporator

Type




Tank with coil(Plate heat exchanger)

Chilled Water Flow

m³/h

2.3

Condenser

Type




High efficiency copper condensing coil with Aluminum+Spiral axial flow fan

Cooling Water Flow

m³/h

5000

Dimension

Length

mm

1120

Width

mm

530

Height

mm

1200

Weight

KG

172

Safety Protection : Compressor overheating protection, over-current protection, high and low pressure protection, over-temperature protection, flow protection, reversed and lacking phase protection, exhaust overheating protection.
Package & Shipping
FAQ
Q1: Could you help us to recommend the model for our project?
A1: Yes, we have engineer to check the details and make the scheme for you. Based on the following:
1)Cooling capacity;
2)chilled water inlet and outlet temperature
3)chilled water flow
4) Refrigerant;
5) Ambient temperature;
6)Voltage;
7) Be used for what industry?
8)Any other special requirements
Q2: How to ensure your product with good quality?
A2: All our products with CE certificate. And use the well-know brand accessories, such as copeland, danfoss,Hanbell, Bitzer compressor Emerson expansion Valve, Siemens controller.
also can be customized. All OUMAL Chillers are factory tested under load conditions to ensure good quality and easy installation for users
Q3: What's the warranty?
A3: 15 months warranty for free if confirmed by both side damage in the quality reason.
Q4: What's your payment term?
A4: We accept T/T, LC, Western Union, etc. Normally, 30% deposit for production, 70% balance before shipment.
Q5: Are you a manufacturer?
A5: Yes, we have more than 15 years in water chiller business. Also have patent on the water chiller appearance .
The control box design make the unit safety and stably.
Q6: How can i Place an order ?
A6: Click Below to fill the table or Call 0086 15112554736