10 Ton Refrigeration unit for cold room
Refrigeration condensing units including high-temperature cold storage, medium-temperature cold storage, low-temperature cold storage, and quick-freezing storage, which are used in food and product industries, fresh-keeping or freezing and cold storage industries
Condensing units are the the most important component of whole cold room. Condensing unit typically is a high assembly of a refrigeration system which includes an assembly of compressor, condenser, fan motor, controls and a mounting plate. Oumal designs and fabricates a versatile line of air cooled, water cooled and remote condensing units ranging from small cold room monoblock refrigeration unit to very large industrial rack refrigeration system.
Our high quality, innovative condensing unit products include outdoor condensing unit, Indoor condensing unit, vertical air cooled condensing unit, rack refrigeration system and monoblock refrigeration unit, which are engineered for energy efficiency and serviceability and are offered with a full selection of standard features and options to meet any commercial refrigeration applications.
Condensing Unit Feature:
1.Copeland refrigeration compressor, large internal free volume, able to effectively prevent liquid strike;
2.Aluminum condenser with copper tube, efficient heat exchanger, and long service life;
3.The domestically produced high-quality refrigeration parts, units equipped with receiver, filter, solenoid valve, pressure controller, high and low voltage meter, and junction box.
Advantages for our condensing unit
1.The accessories for the unit include liquid receiver, pressure gage,
pressure controller, sight glass, filter junction box, etc.
2.The copper tube of air-cooled Condensing units get through the 2.6Mpa
pressure test, meet the request of normal work.
3.Every part of units is best in corrosion protection.
4.Air cooled condensing unit refrigerating capacity ranks from 0.2KW to 29KW.evaporating temperature: -45°C-+15°C, run steady under the ambient temperature +43°C.
5.Proper structure, accurate and reliable operating system for the air-cooled condensing unit.
6.Use the high efficiency and large air volume axial fan, with low noise and energy saving.
Packing & Shipping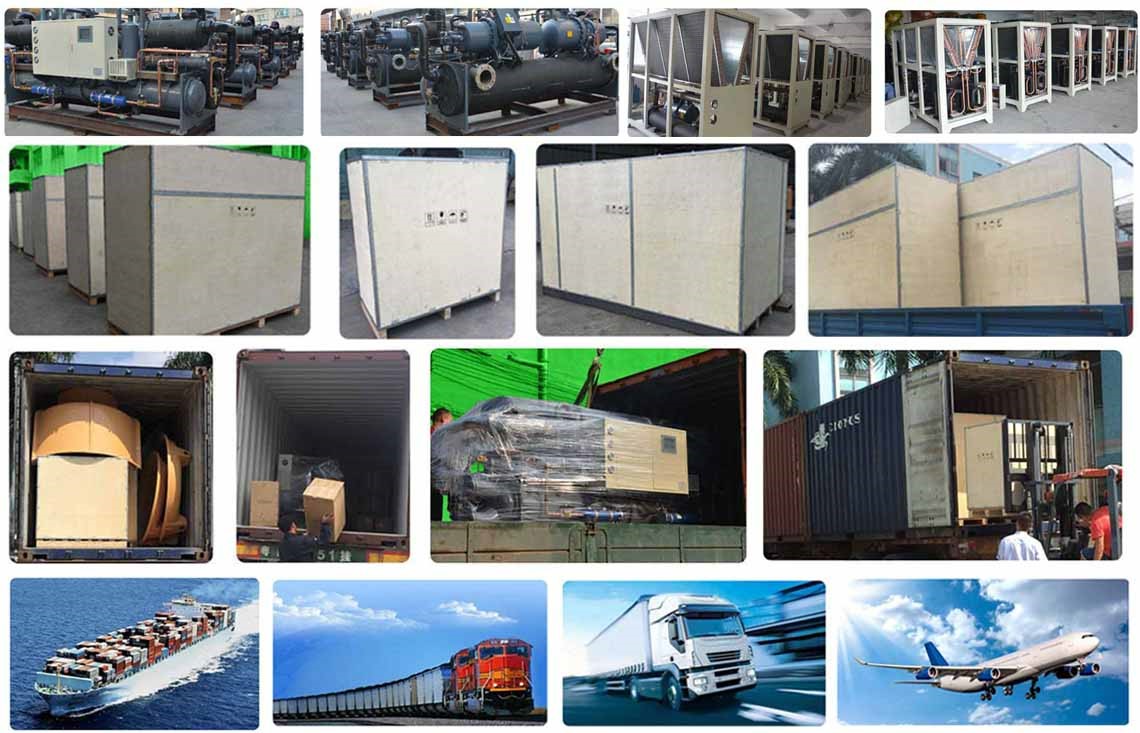 FAQ
Q1:Could you help us to recommend the model for our project?
A1: Yes, we have engineer to check the details and make the scheme for you. Based on the following:
1)Cooling capacity;
2)chilled water inlet and outlet temperature
3)chilled water flow
4) Refrigerant;
5) Ambient temperature;
6)Voltage;
7) Be used for what industry?
8)Any other special requirements?
Q2:How to ensure your product with good quality?
A2: All our products with CE certificate. And use the well-know brand accessories, such as copeland, danfoss,Hanbell, Bitzer compressor Emerson expansion Valve, Siemens controller.
also can be customized. All OUMAL Chillers are factory tested under load conditions to ensure good quality and easy installation for users
Q3:What's the warranty?
A3: 15 months warranty for free if confirmed by both side damage in the quality reason.
Q4:What's your payment term?
A4: We accept T/T, LC, Western Union, etc. Normally, 30% deposit for production, 70% balance before shipment.
Q5:Are you a manufacturer?
A5: Yes, we have more than 15 years in water chiller business. Also have patent on the water chiller appearance .
The control box design make the unit safety and stably.
Q6:How can i Place an order ?
A6: Click Below to fill the table or Call 0086 15112554736